Dance music system for wedding receptions
Be your own DJ!
We can hire you a simple speaker system that can be plugged into your laptop, iPod or MP3 player.
You can either collect it and set it up yourself or have us come and set it up for you.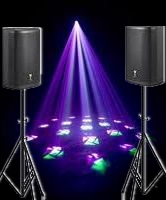 Typical price to have it set up for you is $280 inc GST - includes dance floor effect light.
$115 per day pick-up - Speaker system only. (from Woody Point, Redcliffe)

You can email or call us or use the following form...
Please enter

as the CODE WORD.